All goods purchased online will be delivered the next working day between 9am & 5pm orders must be confirmed by 2.30pm for 24hr delivery. Orders after that time will be processed the next working day for 24hr delivery. Orders that total over £100 delivery is free of charge. Orders below £100 delivery charge is only £6.99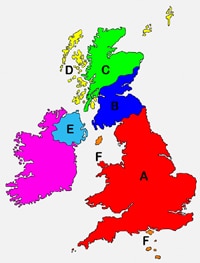 All prices include VAT
This applies to UK mainland only orders only.
A+B: Uk Mainland, Free on delivery over £100
A-F: Saturday delivery option + £15.00 surcharge
C+D: Scottish Highlands and Islands + £10.00 surcharge
F: Isle of man and Isle of White + £15.00 surcharge
E: Northern Ireland + £15 surcharge
G: Europe + £30 surcharge
1. For international rates please contact for a quote.
If goods are out of stock you will be notified by email with infomation of when the goods are back in stock. You will then have the option to back order the items or cancel the order.
All goods bought online come with a 12 month warranty unless otherwise stated. If for any reason you are unhappy or have faulty goods upon delivery we must be notified within 14 days. Goods must then be returned with the original packaging for a refund or an exchange. which ever the customer prefers.
All goods bought online are covered by insurance.
Our online shop is covered by secure hostings and is encripted to prevent fraud.
Thank you for shopping at total sounds.
Any more enquires or infomation needed email [email protected]
Total Sounds / always want to be fair, we want your repeat business.
Please do not hesitate to telephone our sales team with any queries that you may have: Tel: 0118 951 0050
All prices shown are inclusive of VAT. ( No extra hidden costs to pay )
Goods are not supplied on a trial basis.
2. CANCELLATION, RETURNS AND REFUND POLICY
We hope you will be pleased with everything you have bought from us but if you are unhappy with your Products, you can return them to us in accordance with the returns policy described in this section.
Right to cancel
Under The Consumer Contracts (Information, Cancellation and Additional Charges) Regulations 2013 you have a legal right to cancel the contract between you and us within 14 days of delivery without giving a reason unless the product is a custom order/ bespoke order.
The cancellation period will expire 14 days from the day you or a third party acting on your behalf (excluding the company that delivers the Product to you) takes physical possession of the Product you ordered. Where you order multiple Products in one order or a Product is delivered in separate parts, lots or pieces, the cancellation period will expire 14 days from the day you or a third party acting on your behalf (excluding the company that delivers the Product to you) takes physical possession of the last Product, part, lot or piece that makes up your order.
To exercise the right to cancel, you must inform us of your decision to cancel your contract with us by making a clear statement (e.g. a letter sent by post or email). The easiest way to do this is to contact our Customer Services team at [email protected] or contact the store on 01189510050
To meet the cancellation deadline, it is sufficient for you to send your communication concerning the exercise of your right to cancel before the cancellation period has expired.
Effects of cancellation
If you cancel your contract with us, we will reimburse you all payments received from you, including the cost of delivery.
We will make the reimbursement without undue delay, and not later than: (a) 14 days after the day we receive back from you any Products supplied, or (b) (if earlier) 14 days after the day you provide evidence that you have returned the Products, or (c) if there were no goods supplied, 14 days after the day on which we are informed about your decision to cancel this contract.
We will make the reimbursement using the same means of payment as you used for the initial transaction unless you have expressly agreed otherwise; in any event, you will not incur any fees as a result of the reimbursement.
We may withhold reimbursement until we have received the Products back or you have supplied evidence of having sent back the Products, whichever is the earliest.
You are only liable for any diminished value of the Products resulting from the unfair/unreasonable wear and tear of the Product which is not necessary to establish the nature, characteristics and functioning of the Products. We may make a deduction from any reimbursement (you are entitled to from us) for such loss in value of any Products we supply.
Faulty or mis-described goods
If you are returning the Products to us because they are faulty or mis-described, we will refund: the price of the Product in full; any applicable delivery charges. As a consumer, you will always have legal rights in relation to Products that are faulty or not as described. These legal rights are not affected by the returns policy or these terms and conditions of sale.  We will refund you only through the payment method used by you to pay.
How to return the Products
You must return Products to us as soon as reasonably practicable. We will collect the Products from the address to which they were delivered. We will contact you to arrange a suitable time for collection;
You will be responsible for the return costs of the products. We are happy to arrange collection but you can also use any carrier you want to return the items.
You must take care when opening packaging that the Products were delivered in and carefully re-pack the Products in the original (or similar) packaging prior to returning the Products to us. If any damage occurs from the point of collection from you and re delivery to us then you are liable for the cost of damage.
If the item is sent to you boxed then for us to be able to accept the return it must be returned in the same box it was sent to you in or we cannot accept the return.
No item can be returned without an authorised returns number. Tel: 0118 951 0050 to obtain an RMA Number.
No property or title of the goods shall pass from Total to the customer until payment has been received in full.
Access, MasterCard, Visa, Switch, Solo, Electron, Delta cards are accepted without a surcharge, however we reserve the right to deliver only to the card holders billing address unless the card issuer states otherwise. Business cheques are also welcome by us, but will be subject to a 14 day clearance time.
All products are subject to availability, all items shown should be in stock. In the event of an item not being in stock we will contact you to advise you.
All products are covered by the manufactures warranty. Normally 12 months, but longer with some manufacturers.
Your delivery from Total Sounds is insured by our couriers.
Claims for non-delivery or damaged goods must be notified to us within 3 working days from expected date of delivery. Claims will not be accepted after that time. Goods which are deemed faulty on arrival will be collected by our courier for replacement or refund.
These terms and conditions do not affect your statutory rights.