View basket
"Chauvet Hurricane 1600" has been added to your basket.
American DJ Fog Fury Jett
£229.00
This product is expected to be back in stock by 07/01/2022
Email when stock is available?
Description
The ADJ Fog Fury Jett is a high velocity vertical Fog Machine that mixes color into the fog from 12x 3-Watt RGBA LEDs. With new advances in ADJs heater technology, the Fog Fury Jett produces a dry even blast of fog over 25 feet (7 meters) in the air. It has a special heating element design that uses an oil type transmission throughout the pipeline to prevent clogging. It is also equipped with a high performance Italian pump system for optimum output. ADJs Electronic Thermo Sensing (ETS) technology is on-board to maintain optimum heat levels with no warm-up time between fog blasts.
The Fog Fury Jett may be use vertically or horizontally. The reservoir tank may be mounted in the front or rear of the unit so the machine may be pointed up or down. The ADJ FFJWR wireless remote comes included with the Fog Fury Jett.
Features:
– 650W professional DMX vertical Fog Machine with 12x 3-Watt LEDs
– High performance pump for optimum output
– ADJs Electronic Thermo Sensing (ETS) technology
– Automatic circuit cut-off to protect pump if fog fluid tank runs dry
– Special heating element design that uses an oil type transmission pipeline system to minimize the possibility clogging
– 3 Operational modes: Manual, Remote Control, or DMX Controlled
– 4 DMX Channels
– 4-button control panel & LCD display on rear panel
– 3-pin DMX XLR In/Out connections
– Convenient carrying handle
– Low Fluid Indicator on rear
– Warm-up time: 9 min
– External fog fluid tank: 3 Liter
– Fog Output: 20,000 (cu.ft/min)
– Tank can be mounted to either front or rear so that the effect may be pointed up or down
– Included Accessory: ADJ FFJWR – wireless remote
– Power Connection: IEC AC In
– Safety Loop on board
– Only use high quality, water-based fog fluid
– Light Source: 12x 3-Watt LEDs, (3 Red, 3 Green, 3 Blue & 3 Amber LEDs)
– Heater: 650W
– Voltage: AC 120V, 230 or 240 50/60Hz (non switching)
– Power Consumption: 680W (Full on)
– Dimensions (LxWxH): 397 x 302 x 191mm
– Weight: 7.1 kg.
Total Sounds
Unit C5, Weldale Street,
Reading,
Berkshire,
RG17BX
Telephone: 01189 510050
Email: [email protected]
Shipping & Delivery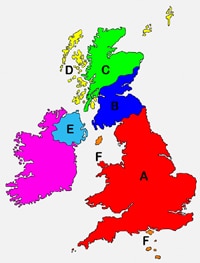 All goods purchased online will be delivered the next working day between 9am & 5pm orders must be confirmed by 2.30pm for 24hr delivery. Orders after that time will be processed the next working day for 24hr delivery. Orders that total over £100 delivery is free of charge. Orders below £100 delivery charge is only £6.99
All prices include VAT
This applies to UK mainland only orders only.
A+B: Uk Mainland, Free on delivery over £100
A-F: Saturday delivery option + £15.00 surcharge
C+D: Scottish Highlands and Islands + £10.00 surcharge
F: Isle of man and Isle of White + £15.00 surcharge
E: Northern Ireland + £15 surcharge
G: Europe + £30 surcharge