View basket
"Pioneer PLX-1000 High-torque direct drive turntable" has been added to your basket.
Reloop TURN 3
£389.00
2 in stock
Description
The TURN 3 is a precision-engineered belt-drive record player with a heavy MDF construction and clever anti-vibration feet, which ensures a stable platform for the turntable. The sleek gloss black plinth houses a low-noise DC motor that keeps un-wanted noise and resonance to a minimum. The motor is connected to an acoustically-treated aluminium die-cast platter via a drive belt that loops around the main platter's inner-ring. The platter then sits atop a smooth-yet-sturdy spindle system.
The straight tonearm was specially designed for the TURN 3, and offers optimal tracking performance for a superior sound experience. The arm's premium finish also complements the turntable's quality aesthetic, while the clearly labelled counterweight and convenient anti-skate dial make set-up effortlessly simple. The TURN 3 is supplied with a high-quality Ortofon 2M Red cartridge, and the use of a special curved headshell makes for easy changing between cartridges with different types of music or vinyl records (i.e. stereo or mono records).
The TURN 3 is operated by a master switch on the back panel, and a three-point speed control on top of the plinth. The controller allows for effortlessly simple switching between 33 1/3, 45 and 78rpm speeds with tight accuracy and reliable stability. For added convenience, there is a switchable Semi-Automatic Auto Stop function, which allows the turntable to automatically start when the tonearm is placed in position, and stop again at the end of the record.
The TURN 3 is also simple to connect to any hi-fi system. The turntable is internally grounded, finished with gold-plated connectors and supplied with a set of RCA leads. Thanks to the switchable built-in Moving Magnet phono stage, the turntable can either be connected to a standard LINE or AUX input on an amplifier, or it can be upgraded with the use of an external phono stage. The additional USB output also allows for simple connection to a PC or Mac, providing a quick and easy way to transcribe your vinyl to digital audio files.
Features:
Belt-drive Hi-Fi Turntable
Pre-installed Ortofon 2M Red cartridge
Specially designed tonearm for optimal tracking performance
Headshell connection provides added flexibility
High-quality built-in Phono Stage can be switched on or off (Phono/Line output)
USB output for recording your vinyl to a PC or Mac
Semi-Automatic Motor Stop can be switched on or off
Low-vibration DC motor
Integrated motor control with large speed selector for conveniently selecting three different speeds (33, 45 and 78 RPM)
External DC power supply ensures a silent running motor (100-240 V / 12V / 500mA)
Aluminium platter with rubber damping for optimized resonance control
Adjustable anti-skating dial for improved cartridge tracking
Gold-plated, corrosion resistant audio outputs (all cables detachable)
Purpose-chosen turntable feet for effective decoupling
Gloss black piano finish
Master power switch on rear panel
Supplied with pre-installed Ortofon 2M Red Cartridge, Counter Weight, Dust Cover (incl. hinges), Felt-Mat, Rubberised Aluminium Platter, Aluminium 7" Adapter, RCA & USB cables and international power supply (UK/EU/US)
Specs:
Turntable: Belt Drive via DC Motor
Speeds: 33 1/3, 45 and 78RPM
Wow & Flutter: 0.2%

S/N: > 60dB
Analogue Output: Phono / Line Switchable
Phono Output Level: 1.4 – 5.5 mV
Line Output Level: 100-300 mV
Effective Tonearm Mass: 24.84g
Arm Length: 232mm
Platter Diameter: 332mm
USB Output: 48 kHz / 16-Bit
Power Consumption: 6W
Dimensions (W x D x H): 450 x 352 x 138.7mm
Weight: 7kg
Cartridge: Ortofon 2M Red
Total Sounds
Unit C5, Weldale Street,
Reading,
Berkshire,
RG17BX
Telephone: 01189 510050
Email: [email protected]
Shipping & Delivery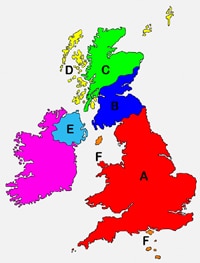 All goods purchased online will be delivered the next working day between 9am & 5pm orders must be confirmed by 2.30pm for 24hr delivery. Orders after that time will be processed the next working day for 24hr delivery. Orders that total over £100 delivery is free of charge. Orders below £100 delivery charge is only £6.99
All prices include VAT
This applies to UK mainland only orders only.
A+B: Uk Mainland, Free on delivery over £100
A-F: Saturday delivery option + £15.00 surcharge
C+D: Scottish Highlands and Islands + £10.00 surcharge
F: Isle of man and Isle of White + £15.00 surcharge
E: Northern Ireland + £15 surcharge
G: Europe + £30 surcharge