Reloop Touch 7″ Full Colour Touchscreen Performance Controller
£609.00
5 in stock
Description
Reloop presents TOUCH, the world's first DJ controller with an integrated 7″-touchscreen. TOUCH was developed in co-operation with VirtualDJ and it runs plug and play after setup. A full version of VirtualDJ 8 PRO is included.
Thanks to the clear and bright display of waveform and track information, DJs have all important details concerning their music in their field of view. The touchscreen's integration opens up a world full of creative control possibilities including real-time control of FX via the XY panel, comfortable track browsing, organizing your media library via drag-and-drop, as well as visualization of the various performance modes. Video mixing can be played back in full screen mode, offering unique possibilities to support your set visually. Video clips can be assigned to both decks and monitored via the CUE function.
TOUCH is designed in a classic 4-channel club mixer layout and with a combined EQ/filter section. Via colour-coded deck switching, DJs will always know which deck is currently playing. The two deck sections are equipped with high-resolution jog wheels, which are perfect for pitch bending thanks to their special non-slip design. Two fader-FX units offer direct control over effect and video parameters via four short-throw linefaders each. The multi-functional XCoder controls various modes, combining three convenient functions (Loop Size, Key and Grid Adjust) to use with one encoder.
Specs
World's first DJ controller with touchscreen
7" full-colour display: DJ without the need to look at the computer
Touch-screen surface for intuitive operation, developed in cooperation with VirtualDJ
Customisable user interface can be adapted to one's own preference
Display up to 4 waveforms, including track, artist and album information
XY panel for direct control of FX via touchscreen
Integrated video mixing feature with full-screen support
Easy media library organisation via drag & drop folders
Large TRAX encoder for comfortable browsing of media libraries & cloud streaming providers (Pulselocker and Deezer)
4-channel club mixer layout, combined EQ/filter section
Fader-FX unit for real-time editing of audio and video material
High-resolution jog wheels, special non-slip design for pitch-bending
Activate quantize, slip-mode and beat grid adjustment directly via the controller
Xcoder: Multi-functional encoder with various modes – loop, size, and grid adjust
8 RGB-coloured performance pads for creative remixing
Overall 12 performance modes with quick switch via PAD MODE button and SPLIT MODE support
Vast adjustment possibilities for performance modes via PARAM button
Colour-coded deck switching
50 mm pitchfader
Fader-start support
Powerful audio interface with high-retention USB port
2x headphone outs, 1x mic input, 2x master outputs (balanced/unbalanced)
Plug 'n' Play: Incl. full version of VirtualDJ 8 PRO
MIDI compatible with other softwares
Kensington lock to secure the device
Box Includes: touchscreen controller, VirtualDJ PRO license key, instruction manual, USB cable, external power supply unit with international plugs
inputs: Mic 6.3mm jack
Outputs: Master 6.3mm jack (balanced), master RCA (unbalanced), headphones 6.3/3.5mm jack
Interfaces: USB for audio, video and touch transmission
Power supply unit: 12V/3A
Dimensions: 594 x 377 x 43mm (height touch display 73mm)
Weight: 3,7 kg
Minimum system requirements:
PC:
Windows 8 or later
Dual Core 2.5 GHz or better
Minimum 4 GB RAM
Mac:
Mac OS X 10.9 or later
Dual Core 2.5 GHz or better
Minimum 4 GB RAM
Total Sounds
Unit C5, Weldale Street,
Reading,
Berkshire,
RG17BX
Telephone: 01189 510050
Email: [email protected]
Shipping & Delivery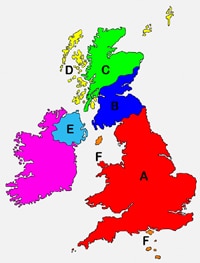 All goods purchased online will be delivered the next working day between 9am & 5pm orders must be confirmed by 2.30pm for 24hr delivery. Orders after that time will be processed the next working day for 24hr delivery. Orders that total over £100 delivery is free of charge. Orders below £100 delivery charge is only £6.99
All prices include VAT
This applies to UK mainland only orders only.
A+B: Uk Mainland, Free on delivery over £100
A-F: Saturday delivery option + £15.00 surcharge
C+D: Scottish Highlands and Islands + £10.00 surcharge
F: Isle of man and Isle of White + £15.00 surcharge
E: Northern Ireland + £15 surcharge
G: Europe + £30 surcharge