Q-Audio QWM 1932 V2 HH + BP
£129.00
Available on back-order
Email when stock is available?
Professional finish fixed frequency UHF wireless microphone system
Specs
UHF wireless system including dual channel receiver and 2 mic transmitters (1 hand held + body pack)
Individual channel volume controls
LED status indicators
2 x adjustable antenna
System includes receiver, 2 x mics (1x hand held, 1x body pack), batteries, PSU and audio cable
2 x balanced XLR outputs
1 x unbalanced 6.35mm jack mixed output
Working distance: 50 meters
Continuous usage: 5 hours
2 optional frequency ranges: either UHF 863.0 / 864.0 MHz or UHF 863.5 / 865.0 MHz
Automatically calibrated frequency stabilisation
Dynamic range: >90dB / Total harmonic distortion: <0.4%
Frequency response: 40Hz-15KHz ±3dB
S/N ratio: >95dB
Image and spurious rejection: >80dB / Border upon channel rejection: >80dB
Receiving sensivity: 7dBuV / De-emphasis: 75uS
Receiver power supply DC 17V 300mA
Hand held transmitter power: 30mW
Modulation type: FM / Max deviation: ±20KHz
Spurious emission: >50dB
Mic battery voltage: 3V (2 x 1.5V AA batteries)
Continuous usage: 5 hours
Hand Held Mic dimensions: 48 x 48 x 230mm (WxDxH)
Receiver dimensions: 270 x 175 x 50mm (WxDxH)
Total Sounds
Unit C5, Weldale Street,
Reading,
Berkshire,
RG17BX
Telephone: 01189 510050
Email: [email protected]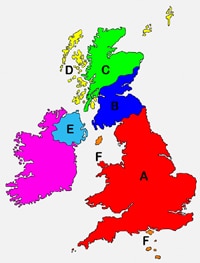 All goods purchased online will be delivered the next working day between 9am & 5pm orders must be confirmed by 2.30pm for 24hr delivery. Orders after that time will be processed the next working day for 24hr delivery. Orders that total over £100 delivery is free of charge. Orders below £100 delivery charge is only £6.99
All prices include VAT
This applies to UK mainland only orders only.
A+B: Uk Mainland, Free on delivery over £100
A-F: Saturday delivery option + £15.00 surcharge
C+D: Scottish Highlands and Islands + £10.00 surcharge
F: Isle of man and Isle of White + £15.00 surcharge
E: Northern Ireland + £15 surcharge
G: Europe + £30 surcharge