View basket
"Reloop RHP-15 DJ Headphones" has been added to your basket.
Numark Red Wave Carbon High-quality Full-range Headphones
£59.00
Description
When you are looking for a good pair of DJ headphones you want a pair that has a fresh design, is light and comfortable for long sessions, and of course is made by DJs for DJs. Red Wave Carbon is for you! It has full-range frequency response, ear pads that deliver all-night comfort, swiveling ear cups for convenient monitoring and a detachable cable with 1/8"-1/4" inch adapter for use with virtually any gear.
Red Wave Carbon sits comfortably over your ear and immerses you in sound so you can focus more on the mix. It is also comfortable to rest around your neck and cue your mix to one ear.
Let's Talk About Sound,
The drivers are big 50mm neodymium-powered units, compared to the smaller 40mm headphone driver size found in most other headphones. This gives Red Wave Carbon a deep, potent bass response that really brings the music to life. When combined with their high-temperature/high-power voice coils, the overall effect is dynamic, realistic music, reproduced with detail and accuracy. We also paid close attention to comfort and convenience. The ear pads are made from a special breathable leather, which stay comfortable and cool, with no "sweating" during extended sessions. The Red Wave Carbon folds down for easy transport. For a perfect finishing touch, we include a custom carrying pouch to store the headphones, cable and adapter.
Red Wave Carbon sounds really great, and they have the comfort and versatility that meets all the unique demands of a professional DJ.
Specs
High-quality full-range headphones designed for DJs
Swivel design allowing DJs the flexibility to monitor house audio and cue audition
Breathable protein-leather padding that remains comfortable during extended use
Large 50mm drivers, neodymium magnets and high-temperature voice coils for optimal frequency response
Detachable headphone cable with ¹/?" adapter for use with virtually any DJ gear
Professional build and modern design matched with superior sound
Fully foldable design for easy transportation
Includes case to protect and store headphones, cable and adapter
Redwave Carbon Headphones
Detachable Headphone Cable
1/8″ to 1/4″ Adapter
Carrying Pouch
Frequency Range: 15 – 20 KHz
Input sensitivity: 98 +/- 3dB
Cable length: 1 meter coiled, 3 meters uncoiled
Weight: 280 grams
Max load: 3500 mW
Impedance: 24 ohm
SPL: 120 DB<br.
Driver Unit: 50mm diameter
Total Sounds
Unit C5, Weldale Street,
Reading,
Berkshire,
RG17BX
Telephone: 01189 510050
Email: [email protected]
Shipping & Delivery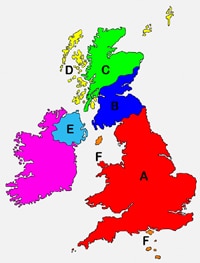 All goods purchased online will be delivered the next working day between 9am & 5pm orders must be confirmed by 2.30pm for 24hr delivery. Orders after that time will be processed the next working day for 24hr delivery. Orders that total over £100 delivery is free of charge. Orders below £100 delivery charge is only £6.99
All prices include VAT
This applies to UK mainland only orders only.
A+B: Uk Mainland, Free on delivery over £100
A-F: Saturday delivery option + £15.00 surcharge
C+D: Scottish Highlands and Islands + £10.00 surcharge
F: Isle of man and Isle of White + £15.00 surcharge
E: Northern Ireland + £15 surcharge
G: Europe + £30 surcharge