View basket
"Reloop Beatpad 2" has been added to your basket.
Numark NDX500 USB/CD Player
£214.00
Please allow 15 days for delivery of this item
Email when stock is available?
Description
The Numark NDX 500 is a versatile standalone USB/CD player and controller which allows you to also DJ with software. All of NDX500s controls come mapped to Serato DJ (sold separately), so you can plug in to your Mac and PC. The NDX500 also features USB Audio, allowing you to play back audio from your computer. No matter the source, all critical information is displayed on the backlit display so you can manage your library of tracks at a glance.
The touch-sensitive jog wheel with adaptive platter technology automatically calibrates itself and gives you to cratch, search and backspin with precision and reliability. An adjustable start/stop time lets you create vinyl-style braking and power-up/down effects.
The hot cues provide immediate access to key points in the track. Both a looping section and stutter start provide seamless creation of mix foundations, transitions, and more. Auto BPM counters with tap-tempo override gets to the point so you can mix with precision.
A cost effective and well buillt sturdy unit, which will imitiate most club systems giving you the confidence to transfer your skills at the club, or on the road.
– See more at: http://www.numark.com/product/ndx500#sthash.hUlyTGMg.dpuf
Features –
Control DJ software and play music from USB flash drives, CDs, or MP3 CDs
Built-in USB computer audio interface for playing back music from your Mac or PC
Touch-sensitive scratch and search wheel for unprecedented control
Control DJ software via USB MIDI
Auto BPM with tap override for instant tempo analysis
Start/stop time adjustment for vinyl-style braking
Three hot cues for quick access to key points
Seamless looping with stutter start for easy loop creation and integration
Pitch tracks up or down by up to 100%
Master Tempo preserves key while pitch-shifting
Anti-ShockTM buffered skip-protection technology
Text display for quickly and easily navigating media files
Pre-mapped for deep integration with Serato DJ (sold seperately)
Class-compliant, instantly works with Windows and Mac OS X, no driver required
– See more at: http://www.numark.com/product/ndx500#sthash.CF1qkKPt.dpuf
Total Sounds
Unit C5, Weldale Street,
Reading,
Berkshire,
RG17BX
Telephone: 01189 510050
Email: [email protected]
Shipping & Delivery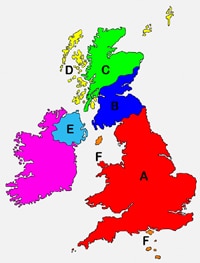 All goods purchased online will be delivered the next working day between 9am & 5pm orders must be confirmed by 2.30pm for 24hr delivery. Orders after that time will be processed the next working day for 24hr delivery. Orders that total over £100 delivery is free of charge. Orders below £100 delivery charge is only £6.99
All prices include VAT
This applies to UK mainland only orders only.
A+B: Uk Mainland, Free on delivery over £100
A-F: Saturday delivery option + £15.00 surcharge
C+D: Scottish Highlands and Islands + £10.00 surcharge
F: Isle of man and Isle of White + £15.00 surcharge
E: Northern Ireland + £15 surcharge
G: Europe + £30 surcharge