Numark Mixstream Pro Stand Alone DJ Controller With Wifi
£499.00
Please allow 15 days for delivery of this item
Email when stock is available?
Description
Connect. Stream. Play
The Mixstream Pro standalone DJ controller is fully optimised and suited for the present and future of DJing . Setting new standards in connectivity and music access.
With its built-in WiFi the Mixstream Pro can access streaming content virtually anywhere . Connecting quickly to TIDAL, Beatport LINK, Beatsource LINK, Soundcloud Go+, and more to come.
DJs can also sync their entire music library or selected playlists to Dropbox, and seamlessly access them on the Mixstream Pro.
Tracks are buffered into the internal memory as they are loaded. Making playback ultra-reliable and stable and ensuring uninterrupted playback at every gig or live stream.
On top of its array of connected features  the Mixstream Pro features 2 USB inputs and 1 SD card slot for external media drives . Giving DJs optimum versatility when it comes to music selection and curation.
Using the Engine DJ desktop software, DJs can quickly and easily export their entire music library .Or selected playlists to a USB drive or SD card, and then access their music instantly on the Mixstream Pro easily with the onboard touch screen.
First-Ever Built-In Monitor Speakers
No speakers no problem the mixstream has its own built in speakers making it so versatile to use on the go or for small parties.
Simple, Fun , Smart Lighting Control
The Mixstream Pro uses its built-in WiFi to connect wirelessly to Philips Hue smart home lighting. This making a mood-setting, beat-synchronised lightshow only a tap of the screen away.
Colour changes, on-beat auto generated lightshows, and stunning performance features like strobing and colour overrides can all be accessed using the onboard Engine Lighting.
For advanced lighting options and features, DJs can pre-analyse their music library with the SoundSwitch desktop software . Export their library to a USB drive, SD card, or to their Dropbox cloud, and have full control of DMX lighting using the touchscreen of the Mixstream Pro.
This never-before-seen versatility and functionality makes it simple to provide an immersive lighting experience at events and gigs without the need to bring along a laptop or DMX controller.
The lights even respond to the movements of the crossfader, volume controls, and scratching for an amazing experience.
Specs
Built-in WiFi for access to streaming services: TIDAL, BeatportLINK, Beatsource LINK, SoundCloud Go+, and Dropbox
Engine DJ embedded operating system for laptop-free DJing
Built-in speakers with volume control for home use, practicing,and monitor applications
Engine Lighting embedded lighting control for Philips Huesmart home and DMX lighting
USB and SD Card inputs for DJing with existing musiclibraries
7" multi-gesture high-definition touchscreen
6" capacitive-touch scratch wheels with Smart Scratch feature for on beat scratching
4 dual-layer performance pads on each deck
4 performance mode pads on each deck (Cue, Saved Loop,Auto Loop, Roll)
FX section with 4 effects and 2 toggle switches
Large Filter knob on each deck
Pitch Bend buttons and dedicated Pitch Slider with selectable Ranges (4%, 8%, 10%, 20%, 50%, 100%)
Dedicated Sync, Cue/Stop, and Play/Pause buttons
3-band EQ on each deck
Balanced XLR and RCA outputs and 1/4" microphone input
Total Sounds
Unit C5, Weldale Street,
Reading,
Berkshire,
RG17BX
Telephone: 01189 510050
Email: [email protected]
Shipping & Delivery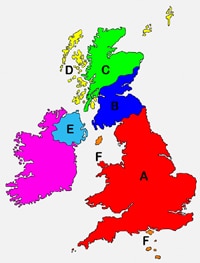 All goods purchased online will be delivered the next working day between 9am & 5pm orders must be confirmed by 2.30pm for 24hr delivery. Orders after that time will be processed the next working day for 24hr delivery. Orders that total over £100 delivery is free of charge. Orders below £100 delivery charge is only £6.99
All prices include VAT
This applies to UK mainland only orders only.
A+B: Uk Mainland, Free on delivery over £100
A-F: Saturday delivery option + £15.00 surcharge
C+D: Scottish Highlands and Islands + £10.00 surcharge
F: Isle of man and Isle of White + £15.00 surcharge
E: Northern Ireland + £15 surcharge
G: Europe + £30 surcharge