View basket
"Citronic CSD-6 Compact Mixer with BT receiver + DSP Effects" has been added to your basket.
Numark M4 3 Channel Mixer
£99.00
1 in stock
Description
A classic 3 channel mixer for DJ'S looking for an extra channel when mixing two sources together whether it be CD or Phono. Also the M4 has crossfader slope adjustment for the scratch DJ'S looking for better performance while in the mix.
The Numark M4 is a three-channel tabletop mixer designed for any DJ who needs maximum flexibility. It features a replaceable crossfader with reverse and slope controls, a 1/4″ microphone input with EQ, and plenty of routing for phono and line level devices.
Where the M4 really shines is its impressive input section. Two switchable phono/line inputs plus four more dedicated line inputs give you a total of SIX inputs! Add Master and Record outputs, and steep three-band EQ/rotary kills on each channel, and you've a powerhouse package that's ready to handle whatever the gig throws at you.
FEATURES
Three-channel tabletop mixer

Inputs: two phono/line switchable (RCA), four line (RCA), mic (1/4″)

Outputs: Master (RCA), Record (RCA), headphone (1/4″ stereo)

Steep three-band EQ/rotary kills on each channel

Microphone input with EQ

Six-segment LED display for monitoring signal strength

Toggle for master and PFL metering

Replaceable crossfader with reverse and slope controls
Total Sounds
Unit C5, Weldale Street,
Reading,
Berkshire,
RG17BX
Telephone: 01189 510050
Email: [email protected]
Shipping & Delivery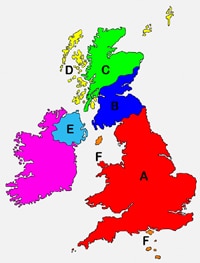 All goods purchased online will be delivered the next working day between 9am & 5pm orders must be confirmed by 2.30pm for 24hr delivery. Orders after that time will be processed the next working day for 24hr delivery. Orders that total over £100 delivery is free of charge. Orders below £100 delivery charge is only £6.99
All prices include VAT
This applies to UK mainland only orders only.
A+B: Uk Mainland, Free on delivery over £100
A-F: Saturday delivery option + £15.00 surcharge
C+D: Scottish Highlands and Islands + £10.00 surcharge
F: Isle of man and Isle of White + £15.00 surcharge
E: Northern Ireland + £15 surcharge
G: Europe + £30 surcharge