Numark M101 2-Channel All-Purpose Mixer
£77.00
Please allow 15 days for delivery of this item
Email when stock is available?
Description
M101 is a highly adaptable two-channel mixer for DJs. M101 lets mobile DJs get up and running quickly regardless of what gear you bring to the gig. Whether for weddings, parties, clubs and everything in-between, the M101 is a perfect mixer for beginners and seasoned DJs alike who want a durable two-channel solution.
Beyond simply mixing, M101 has a built-in EQ so that you can fine tune your mix depending on the room or the tracks themselves. Two pairs of switchable Phono/Line inputs are included along with a crossfader, ¼" mic input and stereo RCA line output for connection to an amplifier, powered speakers or another mixer. M101 can be rack-mounted and features Numark's legendary industrial-grade durability.
If you're a DJ on the move and need solid, dependable two-channel performance, look no further than the M101 mixer.
Specs
Two pairs of Phono/Line inputs
Built-in two-band EQ for quick, easy sound tweaks
1/4-inch Mic input for voiceovers and announcements
Stereo Line Out (RCA) for easy connection to amps or powered speakers
Total Sounds
Unit C5, Weldale Street,
Reading,
Berkshire,
RG17BX
Telephone: 01189 510050
Email: [email protected]
Shipping & Delivery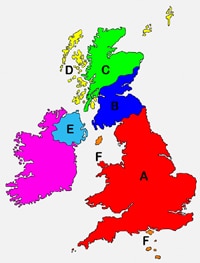 All goods purchased online will be delivered the next working day between 9am & 5pm orders must be confirmed by 2.30pm for 24hr delivery. Orders after that time will be processed the next working day for 24hr delivery. Orders that total over £100 delivery is free of charge. Orders below £100 delivery charge is only £6.99
All prices include VAT
This applies to UK mainland only orders only.
A+B: Uk Mainland, Free on delivery over £100
A-F: Saturday delivery option + £15.00 surcharge
C+D: Scottish Highlands and Islands + £10.00 surcharge
F: Isle of man and Isle of White + £15.00 surcharge
E: Northern Ireland + £15 surcharge
G: Europe + £30 surcharge