View basket
"Pioneer XDJ-1000MK2" has been added to your basket.
Numark DJ2GO2 Touch Pocket DJ Controller with Capacitive Touch
£69.00
2 in stock
Description
Prep, Play and Scratch—Anywhere, anytime!
The Ultimate Pocket DJ Controller!
DJ2GO2 Touch is a portable, pocket-sized DJ controller with the ability to scratch on capacitive touch jog wheels. With a built-in sound card and Serato DJ Lite software, it fits perfectly in front of your laptop.
Professional DJs loved its predecessor—DJ2GO2—when it debuted in 2017. DJ2GO2 Touch continues that successful path and now you can scratch! DJ2GO2 Touch was made for all DJ styles and is perfect to prep for your gigs, perform at small gigs, and as a space-saving extra setup for big events.
You unlock all the power of a large DJ controller with DJ2GO2 Touch. The capacitive touch jog wheels bring DJ2GO2 Touch to the next level. Perform light to heavy scratches and blend your mix by nudging the side of the jog wheel.
We know your set demands the best, that's why DJ2GO2 Touch comes pre-mapped with Serato DJ Lite for Mac & PC (software included) and is upgrade-ready to the full version of Serato DJ. For first-time DJs, Serato DJ Lite now comes with demo music and an easy on-boarding tutorial that will walk you through the basics so you can start DJing right away. Built on Serato DJ Pro technology, Serato DJ Lite is designed to be intuitive, reliable & feature rich.
Change up your performance with DJ2GO2 Touch's compatibility with iOS apps including Algoriddim's DJay (see requirements for more details). Simply connect DJ2GO2 Touch to your device using the Apple Camera Connection Kit (sold separately) to mix, scratch, create beats, spice up your mix with remixes and much more!
Your search for finding new music just got a whole lot simpler. With Serato DJ Lite, stream everything from the freshest underground sounds to certified classics directly inside the app from leading providers including SoundCloud and TIDAL.
Featuring an on-board, driverless audio interface plus a dedicated 1/8-inch headphone output and 1/8-inch main output, keep your mix on point and effortlessly connect to virtually all mixers, powered speakers and audio recorders.
DJ2GO2 Touch comes packed with all the must-have mix essentials. Two channels, a crossfader, jog-wheels and pitch faders, access to critical functions for seamless blending or scratching are right at your fingertips!
With 8 pads and four pad modes for total-control of cue-points, auto / manual looping and sample playback, DJ2GO2 Touch gives you the same access to performance controls typically found only on larger controllers.
Combining a sleek, low-profile design and radiant backlit controls, DJ2GO2 Touch looks great and is made to move! What's more, it's powered over USB and supports plug-and-play connectivity for maximum portability and effortless integration.
Simplify your lighting control with a 2-month trial of SoundSwitch premium DJ lighting software included with the DJ2GO2 Touch. SoundSwitch is a Digital Lighting Workstation that lets users create lighting displays that are performed in time with audio files when played back live in Serato DJ. It allows DJs and lighting designers the ability to sync lighting visuals with live audio seamlessly.
Total Sounds
Unit C5, Weldale Street,
Reading,
Berkshire,
RG17BX
Telephone: 01189 510050
Email: [email protected]
Shipping & Delivery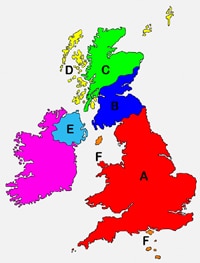 All goods purchased online will be delivered the next working day between 9am & 5pm orders must be confirmed by 2.30pm for 24hr delivery. Orders after that time will be processed the next working day for 24hr delivery. Orders that total over £100 delivery is free of charge. Orders below £100 delivery charge is only £6.99
All prices include VAT
This applies to UK mainland only orders only.
A+B: Uk Mainland, Free on delivery over £100
A-F: Saturday delivery option + £15.00 surcharge
C+D: Scottish Highlands and Islands + £10.00 surcharge
F: Isle of man and Isle of White + £15.00 surcharge
E: Northern Ireland + £15 surcharge
G: Europe + £30 surcharge