The new M-Audio's BX4BT bluetooth monitors produce 120 Watts of professional sound inside a futuristic design that delivers pro-grade sound. The two-way design features an Acoustically-inert MDF cabinet with bass reflex that push low frequencies through modern Black Kevlar® drivers. Plus, enhanced rear ports and computer-optimized natural silk dome tweeters deliver the full spectrum of frequencies needed for any type of media.
The M-Audio BX4BT Multimedia Reference Monitors offer the flexibility to playback audio from any Bluetooth® streaming device with excellent studio quality sound. This opens the possibilities of playing audio from any Bluetooth® device including a turntable, phone, or even a computer to stream a reference mix from your computer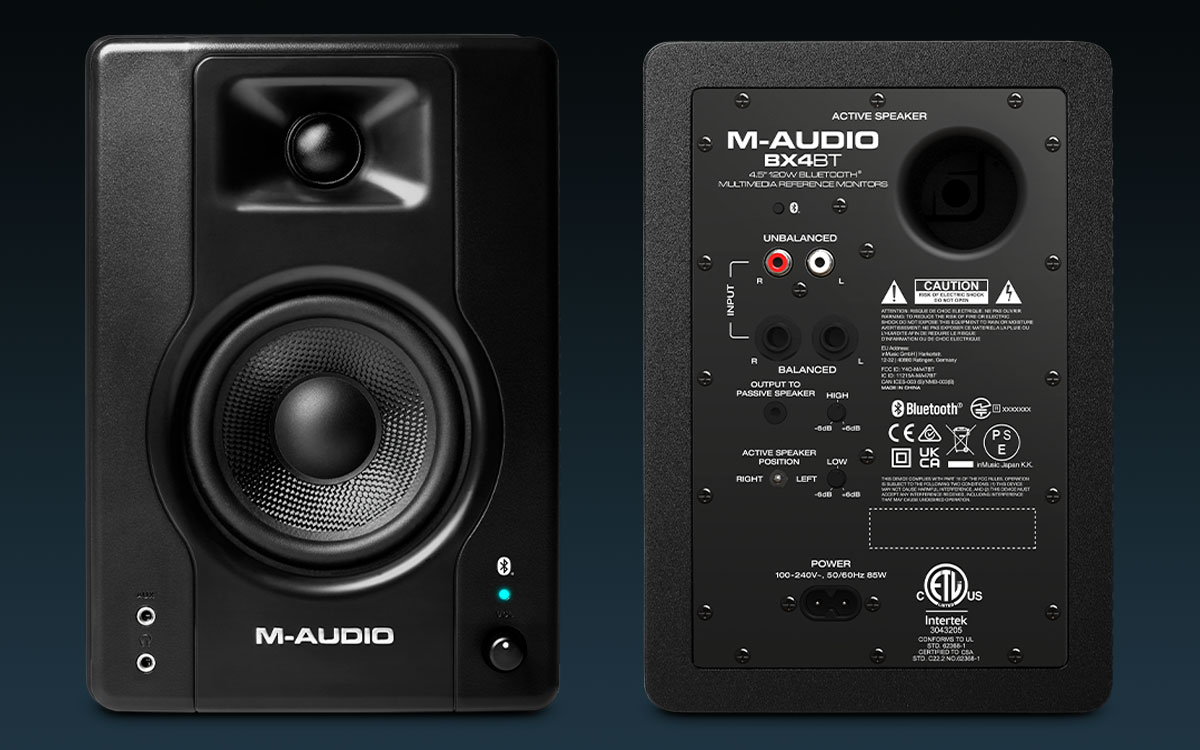 The BX4BT's offer all the connections you need to playback audio from all your devices. The rear panel features 1/4″, 1/8″, and RCA inputs, while the front panel features 1/8-inch aux input and a headphone connection that turns the speakers off for private listening.
To set up simply connect the Active monitor with the supplied cables to your equipment or wirelessly with your blue tooth device and then connect the passive speaker to the Active speaker with the supplied cable to give you a stereo sound.
M-Audio BX4BT Bluetooth monitors feature Left/Right Active Speaker Position switch lets you choose which speaker is the Left or Right side. Also on the rear panel are High-EQ and Low-EQ controls to boost the low end or add some shimmer to the highs.
The monitors come with a great DAW to get you started with creating music right out of the box with the included MPC Beats. MPC Beats is a DAW that makes it easy and fun to create professional sounding podcasts, music, or pro sounding beat productions on any Mac or PC.
Specs
Bluetooth® Connectivity – Easily pair with any Bluetooth-enabled device for wireless streaming
Black Kevlar® low frequency drivers; 1″ natural silk dome tweeters
New computer-optimized tweeter waveguide for precise imaging
High-EQ and Low-EQ controls for dialing in the perfect sound
Enhanced rear ports for extended low-frequency response
Left/right Active Speaker Position switch for configuring which side has volume control
Bluetooth, 1/4″, 1/8″, and RCA inputs for connecting to virtually any audio source
Front 1/8″ AUX input for quick connection of smartphones or other audio sources
Acoustically-inert MDF cabinet with bass reflex design for deep, rich sound
Includes 1/8″ speaker interconnect cable, 1/8″ to 1/8″ cable and 1/8″ to RCA cable
Frequency Response      69 Hz – 22 kHz
Output Power   120 W (total peak), 2 x 25 W (RMS)
LF Driver             4.5″ / 114.3 mm
HF Driver            1″ / 25.4 mm; silk dome
Audio Inputs      (1) RCA stereo input pair
(2) 1/4″ (6.35 mm) TRS inputs
(1) 1/8″ (3.5 mm) stereo auxiliary input
Headphone Output        1/8″ (3.5 mm) stereo output
Interconnection Cable   1/8″ (3.5 mm) TRS Bluetooth Range 100′ (30.5 m)
Power   100–240 VAC, 50/60 Hz, 85 W
Dimensions
(width x depth x height, per speaker)
156 x 175 x 225 mm
Weight 9.83 lbs.
(per speaker)
4.46 kg
Total Sounds
Unit C5, Weldale Street,
Reading,
Berkshire,
RG17BX
Telephone: 01189 510050
Email: [email protected].