Laserworld EL-200RGB 3 Head Laser
£214.00
10 in stock
Description
The Ecoline Series EL-200RGB is a completely new in the product range of Laserword.
It is very easy to handle – even for first-time users. The system can be controlled through DMX, but it also runs in the automatic or music mode. There is a triple output for the red, green and blue beams.
With up to 200mW the Laserworld EL-200RGB is a powerful laser. At the same time it has an affordable price.
Ecoline lasers can be used in pubs, small clubs and at private partys. Compact sizes and very economic prices make the lasers of the Ecoline Series ideal for mobile use.
With ultra bright 445nm royal blue!
Specs
total power:minimium
145mW maximum
200mW
power red:
>60mW/650nm
power green:
>25mW/532nm

power blue:
>60mW/445nm

laser:
diode, DPSS laser
laser class:
3b
control mode:
auto, music, DMX
scanner:
high-speed stepper motors, 2-5kpps

scan angle:
+/-30° max.

beam:
ca. 3mm/2mrad
basic patterns:
ca. 50 (layers, tunnels, fences, waves, etc.)
accessories:
power cable, manual
power supply:
85V – 250V AC

power consumption:
40W

dimensions:
395/175/85 mm (L/W/H)

weight:
5,0kg
Total Sounds
Unit C5, Weldale Street,
Reading,
Berkshire,
RG17BX
Telephone: 01189 510050
Email: [email protected]
Shipping & Delivery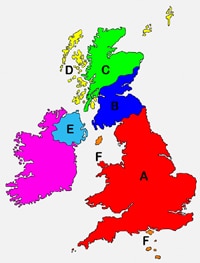 All goods purchased online will be delivered the next working day between 9am & 5pm orders must be confirmed by 2.30pm for 24hr delivery. Orders after that time will be processed the next working day for 24hr delivery. Orders that total over £100 delivery is free of charge. Orders below £100 delivery charge is only £6.99
All prices include VAT
This applies to UK mainland only orders only.
A+B: Uk Mainland, Free on delivery over £100
A-F: Saturday delivery option + £15.00 surcharge
C+D: Scottish Highlands and Islands + £10.00 surcharge
F: Isle of man and Isle of White + £15.00 surcharge
E: Northern Ireland + £15 surcharge
G: Europe + £30 surcharge