Kam Stratosphere Ghost
£189.00
6 in stock
Description
The Kam Stratosphere Ghost is a multi-beam, high-powered colour LED lighting ball, its modern design is a great take on the classic disco mirror ball. This sleek, modern mirror ball produces multiple sharp and intense beams of red, green, blue, white, amber and ultra violet light.
Featuring a really simple, and easy to use 4-button control panel with a range of built in programs, this disco mirror ball lighting effect gives you total control over the lighting effect's speed, colours, strobing, dimming and direction. With 96 lenses and 5 x 18watt full colour 6-in-1 LEDs, this Stratosphere mirror ball light effect can fill a dance floor with great lighting effects including rotation, producing a rich lighting effect with multicolour light beams.
This White coloured Ghost Stratosphere is perfect for wedding disco lighting, or to add a little more interest to your disco lighting rig set-up. The Ghost Strotosphere can be run on auto, sound-to-light, Master/Slave and DMX modes, allowing for a range of lighting effect combinations including multiple Stratospheres for when one mirror ball lighting effect is not enough.
Suitable for disco, club, bar, party and DJ moving show.
Built-in master-slave, sound control and show mode.
LED's: 5 x 18W RGBWA+UV 6in1 LED's
96 lenses
Display: LED display with manual control buttons
Channels: 3CH and 11CH
4 Operation Mode: Sound test, Auto run, DMX and Master/slave
Voltage: AC100-240V , 50/60Hz
Power Consumption: P= 65W
Light Size: 30w x 30d x 38h cm
Weight: 4.1Kg
Total Sounds
Unit C5, Weldale Street,
Reading,
Berkshire,
RG17BX
Telephone: 01189 510050
Email: [email protected]
Shipping & Delivery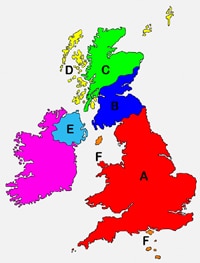 All goods purchased online will be delivered the next working day between 9am & 5pm orders must be confirmed by 2.30pm for 24hr delivery. Orders after that time will be processed the next working day for 24hr delivery. Orders that total over £100 delivery is free of charge. Orders below £100 delivery charge is only £6.99
All prices include VAT
This applies to UK mainland only orders only.
A+B: Uk Mainland, Free on delivery over £100
A-F: Saturday delivery option + £15.00 surcharge
C+D: Scottish Highlands and Islands + £10.00 surcharge
F: Isle of man and Isle of White + £15.00 surcharge
E: Northern Ireland + £15 surcharge
G: Europe + £30 surcharge