Kam LED PartyBar V2
£149.00
Description
The Kam LED PartyBar V2 is an all in one DMX lighting system with a compact portable design and features a wired footswitch for even more versatility.
With four slim, lightweight LED Par cans that are mounted off the controller T-bar. The PartyBar's LED par cans provide excellent colour wash effects and can be fixed to the lighting stand, or mounted on the floor, wall or ceiling for great lighting effects. The par cans are fully adjustable to light the area you want.
Specs
Dynamic, ready-to-go lighting for performance or parties
Portable system of four lights on a stand plus foot controller
Creates superb multicolour wash effects
Set up and ready to rock the party in minutes!
Ideal for parties, bands & DJs or performers on-the-go
Perfect for schools, plays or wedding parties
Fully individually positional par can lights
Each par can has 81 LED's (27 Red 525nm/100W, 27 Green 525nm/120mW, 27 Blue 465nm/120mw)
Operation modes: Manual, Sound-to-Light, Footswitch
Master/Slave & DMX512
3 / 15 x DMX512 control channels
Foot Controller included
Accessories: T bar, Stand, Carry Bag, Ceiling Mounting Brackets
AC Power: Auto switching 110V-240V 50/60Hz – Can be used internationally
Dimensions (WxDxH): 910 x 242 x 48mm (not inc stand)
Weight: 10Kg
Total Sounds
Unit C5, Weldale Street,
Reading,
Berkshire,
RG17BX
Telephone: 01189 510050
Email: [email protected]
Shipping & Delivery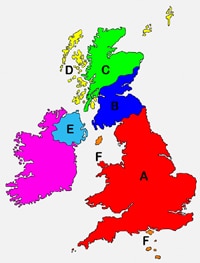 All goods purchased online will be delivered the next working day between 9am & 5pm orders must be confirmed by 2.30pm for 24hr delivery. Orders after that time will be processed the next working day for 24hr delivery. Orders that total over £100 delivery is free of charge. Orders below £100 delivery charge is only £6.99
All prices include VAT
This applies to UK mainland only orders only.
A+B: Uk Mainland, Free on delivery over £100
A-F: Saturday delivery option + £15.00 surcharge
C+D: Scottish Highlands and Islands + £10.00 surcharge
F: Isle of man and Isle of White + £15.00 surcharge
E: Northern Ireland + £15 surcharge
G: Europe + £30 surcharge