JTS NX8S Vocal Performance Microphone
£69.00
10 in stock
Description
The JTS NX8 Vocal Performance Microphone reenhances overall performance with an extended frequency response and dynamic range for cleaner and smoother sound. The reinforced cartridge and hardened grille makes the NX8 one of the most rugged mics in the professional microphone industry. The shock mount keeps handling noise to extremely low level.
Specifications –
Type: Moving Coil Dynamic
Frequency Response: 50~16,500 Hz
Polar Pattern: Cardioid,rotationally symmetrical about microphone axis, uniform with frequency
Sensitivity: (at 1,000Hz) -72dB*(0.25mV)*0dB=1V
Impedance: 600 Ohms
Phasing: Positive pressure on diaphragm produces positive voltage on pin 2 with respect to pin 3
Connector: Three-pin professional audio connector
(male XLR type)
Case: Metallic enamel-painted die cast metal body with hardened, matte-finished steel grille
Net Weight: 245 grams (8.6 oz)
Total Sounds
Unit C5, Weldale Street,
Reading,
Berkshire,
RG17BX
Telephone: 01189 510050
Email: [email protected]
Shipping & Delivery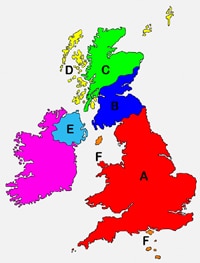 All goods purchased online will be delivered the next working day between 9am & 5pm orders must be confirmed by 2.30pm for 24hr delivery. Orders after that time will be processed the next working day for 24hr delivery. Orders that total over £100 delivery is free of charge. Orders below £100 delivery charge is only £6.99
All prices include VAT
This applies to UK mainland only orders only.
A+B: Uk Mainland, Free on delivery over £100
A-F: Saturday delivery option + £15.00 surcharge
C+D: Scottish Highlands and Islands + £10.00 surcharge
F: Isle of man and Isle of White + £15.00 surcharge
E: Northern Ireland + £15 surcharge
G: Europe + £30 surcharge