Chauvet Obey 40 DMX Controller
£99.00
This product is expected to be back in stock by 08/12/2021
Email when stock is available?
Description
The Obey™ 40 allows you control of up to 12 fixtures at 16 channels each. With a slightly larger size comes a larger capacity: the Obey™ 40 has 30 banks on 8 scenes, or up to 240 scenes. The Obey™ 40 offers the flexibility of its little brother but also adds fog and strobe control and MIDI compatibility.
FEATURES
Universal DMX-512 controller
Controls up to 12 intelligent lights of up to 16 channels each
30 banks of 8 scenes, 240 scenes max
192 DMX channels of control
6 sets of chases containing 240 scenes
Program fade and speed time into each step
Reversible sliders
Re-assignable channels
Sequential linking of chases
Fog & strobe control buttons
Grab any fixture on the fly
Beat activation, tap-sync and auto run
DMX polarity selector
3-space (3U) rack mount
MIDI compatible
SPECS
DMX Refresh Rate: 25Hz
Power: 12VDC 500mA (external power supply: 100-240VAC 50/60Hz)
Weight: 5.7lbs (2.6kg)
Size: 20.25in x 3.5in x 6.75in / 514mm x 89mm x 171mm
Total Sounds
Unit C5, Weldale Street,
Reading,
Berkshire,
RG17BX
Telephone: 01189 510050
Email: [email protected]
Shipping & Delivery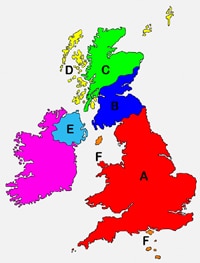 All goods purchased online will be delivered the next working day between 9am & 5pm orders must be confirmed by 2.30pm for 24hr delivery. Orders after that time will be processed the next working day for 24hr delivery. Orders that total over £100 delivery is free of charge. Orders below £100 delivery charge is only £6.99
All prices include VAT
This applies to UK mainland only orders only.
A+B: Uk Mainland, Free on delivery over £100
A-F: Saturday delivery option + £15.00 surcharge
C+D: Scottish Highlands and Islands + £10.00 surcharge
F: Isle of man and Isle of White + £15.00 surcharge
E: Northern Ireland + £15 surcharge
G: Europe + £30 surcharge