Cameo Rotofever LED Mirror Ball Emulator
£209.00
Please allow 15 days for delivery of this item
Email when stock is available?
Description
The Cameo ROTOFEVER is a fascinating mirror ball style fixture featuring a smooth high-precision motor and five powerful 12 watt hex-colour RGBWA+UV LEDs to project rotating beams. Quick and space-saving installation make it the modern alternative for mobile DJs and venues looking for a classic disco effect. Three individually controllable LED zones enable multi-colour chase patterns or illuminating up to three room areas independently. With continuously adjustable rotation speed from 1.4 to 19 rpm in clockwise or counterclockwise directions, the RotoFever creates relaxing lounge ambiences as well as exciting swirls of colourful beams. It includes dimming and strobe functions, and highly efficient convection cooling ensures noiseless operation without time limit.
The ROTOFEVER provides 3 modes of DMX control, sound activation and built-in automated programs. It is capable of master, slave and standalone operation and comes with a convenient handheld infrared control. A clear LED display permits easy configuration and manual control. The rugged metal housing sports 3-pin DMX inputs and outputs plus IEC connectors for trouble-free daisy-chaining and power linking. The multi-voltage RotoFever has very low power consumption and operates on 100 – 240 V. A safety eye and the included bracket enable secure truss mounting.
Specs
5 x 12W hex colour RGBWA+UV LEDs
3 individually controllable LED zones
Smooth-running high-precision motor with 1.4 rpm to 19 rpm
Clockwise and counter-clockwise rotation
Easy and space-saving installation
IEC inlet and outlet for power linking
3 DMX modes plus master, slave and standalone operation
Built-in sound activation microphone
4-button LED display for easy configuration
Includes IR remote and universal mounting bracket
DMX mode
12-channel , 23-channel , 3-channel
DMX Functions
Auto- & Sound programs , Colour macros , RGBWA+UV , Rotation clockwise & counter clockwise slow to fast
Standalone modes
auto programs , master / slave mode , sound programs , Static Mode
Controls
4-digit LED display
Operating voltage
100 V AC – 240 V AC, 50 – 60 Hz
Power consumption
70 W
Power connector
IEC power input and output
Housing material
metal
IR Remote Control
Dimensions
Width
390 mm
Height
320 mm
Depth
320 mm
Weight
3,9 kg
Total Sounds
Unit C5, Weldale Street,
Reading,
Berkshire,
RG17BX
Telephone: 01189 510050
Email: [email protected]
Shipping & Delivery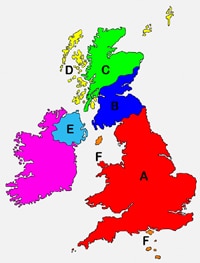 All goods purchased online will be delivered the next working day between 9am & 5pm orders must be confirmed by 2.30pm for 24hr delivery. Orders after that time will be processed the next working day for 24hr delivery. Orders that total over £100 delivery is free of charge. Orders below £100 delivery charge is only £6.99
All prices include VAT
This applies to UK mainland only orders only.
A+B: Uk Mainland, Free on delivery over £100
A-F: Saturday delivery option + £15.00 surcharge
C+D: Scottish Highlands and Islands + £10.00 surcharge
F: Isle of man and Isle of White + £15.00 surcharge
E: Northern Ireland + £15 surcharge
G: Europe + £30 surcharge