Audio Technica AT-LP140XP Black Professional Direct Drive Manual
£379.00 – £719.00
Description
The AT-LP140XP fully manual professional DJ turntable features a high-torque direct-drive motor and anti-resonant, mass-damped, die-cast aluminium platter to ensure stable, on-axis rotation at 33-1/3, 45, and 78 RPM. It is equipped with an S-shaped tonearm with height adjustment, adjustable tracking force (counterweight) and adjustable dynamic anti-skate control.
Audio-Technica has been a leader in phono cartridge design for more than 50 years, and that expertise shows in the durable, high-output AT-XP3 DJ cartridge with 0.6 mil conical bonded stylus included with the turntable. It comes pre-mounted to an AT-HS6 universal ½"-mount headshell.
Designed to connect to components with a dedicated phono input, the turntable comes with a detachable dual RCA output cable which supplies a strong 5.5 mV phono output.
Additional professional features include a start/stop button; forward and reverse play; selectable high-accuracy quartz-controlled pitch lock and pitch change slider control with +/-8%, +/-16%, and +/-24% adjustment ranges; a stroboscopic platter with speed indicator; a retractable plug-type stylus target light; and a removable hinged dust cover.
Specs
Experience high-fidelity audio and professional DJ performance
Direct-drive, high-torque servo motor with speed stabilization
Fully manual operation
Adjustable dynamic anti-skate control
Selectable 33/45/78 RPM speeds
Professional anti-resonance, mass-damped, die-cast aluminium platter with felt mat
AT-HS6 universal ½"-mount headshell and AT-XP3 DJ cartridge with 0.6 mil conical bonded stylus
Balanced S-shaped tonearm with hydraulically damped lift control, height adjustment, and lockable rest
Dedicated phono-level output (5.5 mV)
Stroboscopic platter with speed indicator
Forward/reverse operation and variable pitch control with quartz speed lock
Retractable plug-type target light for easier cueing in low light
Damped base construction for reduced low-frequency feedback coloration
Includes: detachable RCA output cable (dual RCA male to dual RCA male), power cable, 45 RPM adapter, counterweight, felt mat, and removable hinged dust cover
Available in black (AT-LP140XPBK) and silver (AT-LP140XPSV)
Drive Method Direct drive
Type 3-speed, fully manual operation
Motor High-torque DC motor
Speeds 33-1/3 RPM, 45 RPM, 78 RPM
Pitch Variation +/-8% or +/-16% or +/-24%
Turntable Platter Die-cast aluminium
Starting Torque 2.2 kgf-cm
Wow and Flutter <0.2% WRMS (33 RPM)
Signal-to-Noise Ratio >50 dB
Output Level 5.5 mV nominal at 1 kHz, 5 cm/sec
Power Supply Requirements 115/230V AC, 60/50 Hz
Power Consumption 11 W
Weight 10.0 kg
Cartridge & Stylus
Model AT-XP3
Type VM Dual Magnet
Output Voltage 5.5 mV (@ 1.0 kHz, 5cm/sec)
Vertical Tracking Force Range 2.0 to 4.0 g (standard 3.0 g)
Stylus Shape Conical
Stylus Size 0.6 mil
Recommended Load Impedance 47,000 ohms
Weight 6.2 g
Headshell
Model AT-HS6
Weight 9 g
Tone arm
Type Balanced S-shaped tonearm with detachable headshell
Effective Length 230.5mm
Overhang 16mm
Maximum Tracking Error Angle Less than 3 degree
Applicable Cartridge Weight 3.5 – 8.5 g
Anti-skating Range 0-4 g
Total Sounds
Unit C5, Weldale Street,
Reading,
Berkshire,
RG17BX
Telephone: 01189 510050
Email: [email protected]
Shipping & Delivery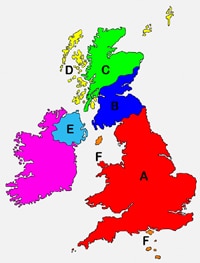 All goods purchased online will be delivered the next working day between 9am & 5pm orders must be confirmed by 2.30pm for 24hr delivery. Orders after that time will be processed the next working day for 24hr delivery. Orders that total over £100 delivery is free of charge. Orders below £100 delivery charge is only £6.99
All prices include VAT
This applies to UK mainland only orders only.
A+B: Uk Mainland, Free on delivery over £100
A-F: Saturday delivery option + £15.00 surcharge
C+D: Scottish Highlands and Islands + £10.00 surcharge
F: Isle of man and Isle of White + £15.00 surcharge
E: Northern Ireland + £15 surcharge
G: Europe + £30 surcharge