American DJ WiFly RGBW8C
£79.00
Description
The WiFLY RGBW8C is a 64-channel RGB, RGBW, RGBA LED wireless DMX controller. It was designed to control any standard 3 or 4 channel group of LED fixtures where channel 1 is Red, channel 2 is Green, channel 3 is Blue and channel 4 is White or Amber. Up to 8 LED fixtures or fixture groups can independently be controlled via four fixture buttons. All LED fixtures or fixture groups must be set to run in DMX mode and be addressed four channels apart for independent control. The units control panel includes 9 direct access "Static Color/Chase" buttons, which contain pre-programmed color presets and chase programs, 3 user programmable color preset buttons, 4 multi function faders that control RGBW intensities on the fly, as well as chase program "Speed", chase program "Fade Time" and "Master Dimmer". There is also an array of 8 buttons used to select the operation mode, including RGB Fade, Auto Run, Color Macro, Chase, Sound Active, Strobe, Manual RGBW and Blackout modes. The WiFLY RGBW8C is one of the simplest and most versatile LED controllers available today. It's ideal for D.J.'s, nightclubs, lounges, bars and anyone that wants easy control of LED Par's, Bar's, Flood's or Panel's.

Specs
Compact DMX-512 controller for RGB, RGBW and RGBA LED fixtures with ADJ's WiFLY Transceiver Wireless DMX onboard (also compatible with wired DMX cables)

Control up to 8 individual fixtures or fixture groups

3 user programmable color preset, direct access buttons

9 Color preset/Chase program direct access buttons

Color Macro playback mode

Manual RGBW intensity control mode

RGB and Auto modes

On the fly Speed & Fade control of all chase programs

Sound active mode via internal microphone

Adjustable microphone sensitivity

Variable strobe

Blackout button
DMX output connector: 3-pin XLR

Power In: 12VDC 500mA UL approved power supply (Included)

Power consumption: 3.6 Watts

Size: 327 x 140 x 48mm

Weight: 1.6 kg
Specifications subject to change without notice.
Total Sounds
Unit C5, Weldale Street,
Reading,
Berkshire,
RG17BX
Telephone: 01189 510050
Email: [email protected]
Shipping & Delivery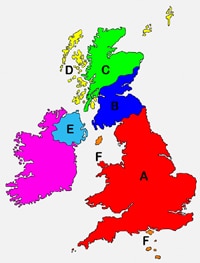 All goods purchased online will be delivered the next working day between 9am & 5pm orders must be confirmed by 2.30pm for 24hr delivery. Orders after that time will be processed the next working day for 24hr delivery. Orders that total over £100 delivery is free of charge. Orders below £100 delivery charge is only £6.99
All prices include VAT
This applies to UK mainland only orders only.
A+B: Uk Mainland, Free on delivery over £100
A-F: Saturday delivery option + £15.00 surcharge
C+D: Scottish Highlands and Islands + £10.00 surcharge
F: Isle of man and Isle of White + £15.00 surcharge
E: Northern Ireland + £15 surcharge
G: Europe + £30 surcharge