American DJ UV COB Cannon
£279.00 – £545.00
Description
The ADJ UV COB Cannon produces a large ultraviolet wash from high output, advanced COB (Chip On Board) UV LEDs-COB LED technology allowing for a powerful LED engine to be placed in a small amount of space.
This professional lighting fixture is designed for washing performance stages, theatrical productions and special effects productions. It requires very little maintenance or service due to its sold state electronics.
The UV COB Cannon has 3 operational modes (sound active, manual or DMX), has 3 DMX operational modes, 5 selectable dim curves, a 4-Button DMX Display and is flicker free for film and television. This fixture is DMX linkable via 3-pin DMX, and is power linkable via PowerCon connections. The light source is a 100-Watt COB (Chip On Board) UV LED engine.
Specification:
– Super high output UV light cannon
– Great for performance stages, theatrical productions and special effects productions
– requires almost no maintenance – low heat, low power consumption
– Advanced COB Technology (Chip On Board) produces powerful, smooth UV color
– 3 Operation modes: Sound Active, Manual, & DMX
– 3 DMX Channel modes: 1, 2 or 3 channel
– 4-button digital DMX display
– Flicker Free operation (No flickering on camera)
– 5 selectable Dim Curves (Standard, Stage, TV, Architectural & Theatre)
– LED pulse and strobe effect
– Electronic Dimming: 0 – 100%
– Beam angle: 33 degrees
– Dual yoke allows fixture to be hung or set on the ground
– DMX Linkable: 3-pin XLR data connectors
– Power Linkable: PowerCon connectors (Up to 3 UV COB Cannon's @ 120V, 5 UV COB Cannon's @ 220V fixtures)
– Long Life LEDs Rated at approximately 25,000 hrs.)
– Power Draw: 120W total (All LED's @ Full)
– Light Source: 100W COB (Chip On Board) UV LED engine
– Multi-voltage Operation: Auto switching, AC 100V – 240V/50Hz -60Hz
– Dimensions (LxWxH): 12.75″ x 11″ x 8″/ 320 x 278 x 200mm
– Weight: 11 lbs. / 4.98kgs
Specifications subject to change without notice
Total Sounds
Unit C5, Weldale Street,
Reading,
Berkshire,
RG17BX
Telephone: 01189 510050
Email: [email protected]
Shipping & Delivery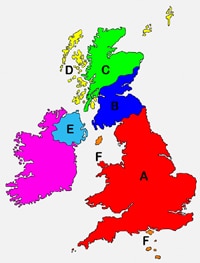 All goods purchased online will be delivered the next working day between 9am & 5pm orders must be confirmed by 2.30pm for 24hr delivery. Orders after that time will be processed the next working day for 24hr delivery. Orders that total over £100 delivery is free of charge. Orders below £100 delivery charge is only £6.99
All prices include VAT
This applies to UK mainland only orders only.
A+B: Uk Mainland, Free on delivery over £100
A-F: Saturday delivery option + £15.00 surcharge
C+D: Scottish Highlands and Islands + £10.00 surcharge
F: Isle of man and Isle of White + £15.00 surcharge
E: Northern Ireland + £15 surcharge
G: Europe + £30 surcharge