American DJ Pro Event Table MB
£359.00
4 in stock
Description
Designed as a professional alternative to folding banquet tables, the new ADJ Pro Event Table MB is a compact and collapsible unit with a modern clean look. Not only is it lightweight and easily portable, but this cleverly-designed portable event surface is easily brandable, making it ideal for a wide variety of purposes at all kinds of events. If you're currently using a pile of road cases to support your control equipment, or relying on venues to provide tables, this could be exactly what you need to improve professionalism and make your life easier at events.
Professional Event Table to use as a greeting table, sales table, live sound or lighting designer console or DJs
Compact and collapsible to half of its width
Matt Black powdercoated finish
Lightweight, around 40 lbs.
Functional and professional looking
Dimensions (LxWxH): 50" x 24" x 45.5" / 1270x610x1155mm
Tube Diameter 32mm
Front board to add custom graphic (Size W x H : 25″ x 22.5″ / 635 x 571,5mm)
Total Sounds
Unit C5, Weldale Street,
Reading,
Berkshire,
RG17BX
Telephone: 01189 510050
Email: [email protected]
Shipping & Delivery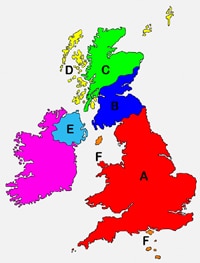 All goods purchased online will be delivered the next working day between 9am & 5pm orders must be confirmed by 2.30pm for 24hr delivery. Orders after that time will be processed the next working day for 24hr delivery. Orders that total over £100 delivery is free of charge. Orders below £100 delivery charge is only £6.99
All prices include VAT
This applies to UK mainland only orders only.
A+B: Uk Mainland, Free on delivery over £100
A-F: Saturday delivery option + £15.00 surcharge
C+D: Scottish Highlands and Islands + £10.00 surcharge
F: Isle of man and Isle of White + £15.00 surcharge
E: Northern Ireland + £15 surcharge
G: Europe + £30 surcharge